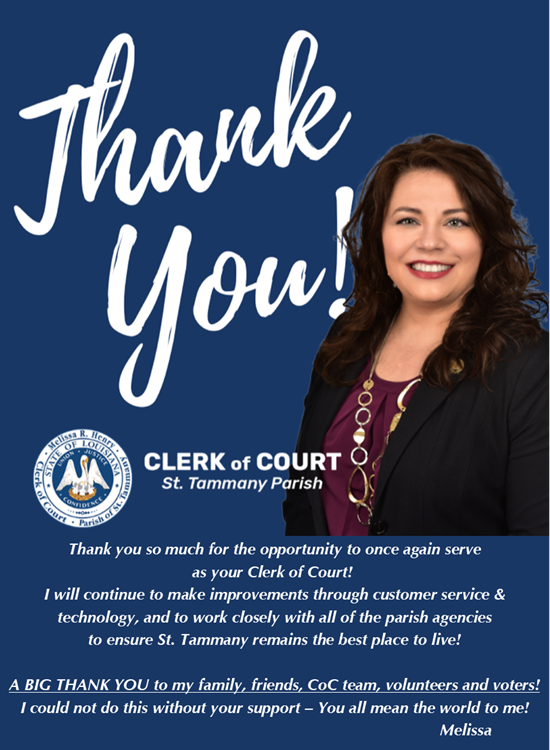 Melissa is a proactive, hardworking, honest individual that has proven
she has what it takes to successfully lead the Clerk of Court's office.
As the official records keeper of St. Tammany Parish, accuracy, efficiency,
and quality are of the utmost importance. The Clerk of Court's office is a
fee-for-service agency and does not receive taxpayer funds to operate. Melissa takes pride in operating the Clerk's office like a business, seeking out every opportunity for improvement.
"I wanted this job because I knew that I could make a difference.
I knew that I could make it better for the public
and for our deputy clerks."
News
Sunday, February 9, 2020 5:08 PM
---
Friday, October 18, 2019 12:00 AM
Henry said she will ask the Legislature to revise state law
---
Wednesday, October 9, 2019 12:00 AM
---
Friday, August 9, 2019 5:30 AM
St. Tammany Parish will see contests in only two of its five parishwide offices with Assessor Louis Fitzmorris, Clerk of Court Melissa Henry and Coroner Dr. Charles Preston returning to office without opposition.
---
Tuesday, July 16, 2019 5:00 AM
St. Tammany Clerk of Court, Melissa R. Henry, has announced that she will be seeking a second term in the election set for October 12, 2019.